Remote Video Surveillance
and Video to PC recording
for Windows 98

Model RVS-98
Have you ever wished you could watch your home cameras from your office? Well, Now you can.
Model: RVS-98
$140.00
SKU-5001
On Sale - Just 89.95


Systems like this sell on the internet for $600.00

It's best to use all one one type of camera with this system.
IE all black and white or all color.
Accessing your cameras used to be something that only the rich could do. But now thanks to spyshop2000.com just about anyone can afford it.
Imagine being able to log in and check on the kids. See who is visiting your home while your not there. Check up on your employees from the comfort of your own home.

All you need is a computer at each location, four cameras with standard RCA composite video outputs like all of the cameras that we sell here at SpyShop2000.com and an internet connection at both sites. Best results from high speed connections.

Shown above is the 4 port video input card that you install in the computer at the site where the cameras are located.

Installing the video card in your computer is easy. the same goes for installing the software. Rest assured that if your need help getting setup we will be more then happy to schedule a time to walk you through the process.
One hour of free technical support is included with your purchase.

The computer at the location where the cameras are at must be running windows98. If your running Windows XP or 2000 click here.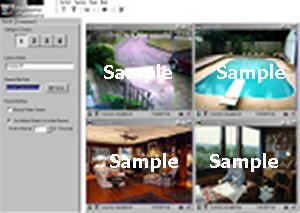 To log into your home computer and view the video you simply enter your home computers IP address, user name and password. You can view all four cameras at once or just one at a time. You can record the video to your computer. You can even set the software up to only record when there is movement in the cameras field of view.

Not only does this feature work from the remote location but it also works on the computer that the cameras are connected to so you don't have to be logged in to record what's going on. You can let the system run by itself and view the captured video later.
If your considering building a home video security system think about the money you save by using this software instead of a hardware based system. You don't need to buy motion detectors to start the recording, you don't need to buy a quad processor to see all the cameras at once, you don't need to buy a time lapse VCR to record the video, you don't need to buy a time and date stamp generator because the time and date are displayed and recorded for each camera. Were talking about hundreds of dollars of equipment no longer needed thanks to this simple and easy to use software.
Other great features of this system:
Anytime / Anywhere access allows remote viewing via TCP/IP (Internet). Each camera has a user definable name tag, time and date stamp. You can set the sensitivity of the motion detection for each camera. Mask out areas in the cameras view to avoid false motion detection. User definable alarm sounds. You can browse the recorded video by date, time and year. Record and store video on the remote computer and home computer.
You computer System requirements:
This system will not work with Windows ME, 2000 or XP... You must have Windows 98...
Intel Pentium 200 or above, Pentium ll 350 is recommended. Intel Celeron processors are not recommended. Microsoft Windows 98 (Remote viewing computer also supports Windows NT/2000), Audio output: sound card (optional), Hard disk space: At least 1GB per camera, System RAM: 64MB or above, Display card: 16-bit high color or 24-bit true color Video Frame Size: Up to 320x240 (Per camera) @ 5~15 fps, Modem and Telephone line. (optional), It's your responsibility to ensure your system meets these requirements before purchasing.
You will receive: One 4 port video input card, User Manual, and Software CD-ROM