Limited time special! Just $135.99
Records Video Directly To Your PC's Hard Drive! Browser Based Remote Access From Anywhere In The World!
Acceptable for both home and commercial use. Unlike many other systems on the market, adding more cameras doesn't reduce he overall frame rate.
Need DVR cards, cameras, cables and power supplies?
Be sure to check out our SKU-8900 Package Deals!
Everything you need right out of the box!
Click here for more information!
The SKU-8900 series is an expandable video surveillance recording system that will allow you to start off small and expand as necessary to meet your surveillance needs. You can start off with the SKU-8900A and when you need to expand you simply add a SKU-8900B, C or D. Each card gives you an additional four ports. You can put up to four cards in one PC giving you a maximum of 16 cameras per computer system. Never put two of the same letter cards in the same system.
FEATURES:

The included software that comes with the SKU-8900 is loaded with features like Motion detection technology that will detect changes in the cameras view to automatically start the system recording. This significantly cuts down on the amount of disk space needed to store video because the system will only record when there is actually something there to record. Of course you still have the option to set it to record full time like a traditional VCR based system. There are actually several recording modes that you can choose from like 24-hour mode, Schedule Mode, Motion detection Mode and Manual Record mode. You can even combine modes.

Unlike most other systems you don't have to install soft ware of from a disk on the PC at the remote location. This system let you login a view your cameras with a web browser like internet explorer or Netscape. Remote Access using a standard browser to login and view your cameras live. You can even play back previously recorded video remotely.

Completely Digitized Video Recording is saved to the PC's hard drive. No more tapes to search through. No more Tapes to buy. Convenient smart search options make accessing video a snap.

Unlike any other system that I have ever seen this system lets you play the video back at 64 times the normal play speed. Normally that wouldn't be a good thing but they have incorporated a video activity spike chart that shows under the video so you can see when activity is coming giving you the opportunity to slow the speed down before the activity reaches the point where it's actually being displayed. You can shoot through an entire day and not miss a thing and in very little time. Of course if you have the system set to use strictly motion detection then there will be no dead time because it will only be recording when there is something to record. They though of just about everything when they wrote this software.

Event Notification options can be configured to notify you Via email, Call you on the phone and play a preset audio recording. Each camera can be configured to play a different message.

Several user levels for security. Administrator, User and Guest. Remote and local access to the system requires a User Name and Password.

Flexible disk management options. You define amount of disk space that each camera is allowed to use. You can either have the system stop recording when the defined amount has been reached or set it to push off the oldest video to make room for new video.

There are just to many features to list them all....
CARD LAYOUT AND IDENTIFICATION
Note: The video "Pass-Through" only passes through one camera, not all four. It passed through AV1-IN.
It can be made to pass through AV2, 3 or 4 by moving a jumper on the card.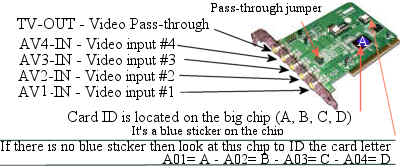 The video pass through can be used to connect to a TV. For Example: If you have a secretary thatís sits by the front door and you have a camera that watches the backdoor, you can set a monitor or TV on her desk connected to the video pass through so she can watch the backdoor from her desk with out having to go over to the surveillance computer.
This system incorporates the BT878 Video Capture Card format for quality video capturing. You can connect four cameras or any video source to the four RCA Video Inputs. The system also has one RCA Video Output that you can connect to a Monitor or Television.

Extendable 4 Cards (Each card has 4 ports)
Software:
Stackable: Use up to 4 card for up to 16 Cameras
Supports 4,8,12 and 16 RCA inputs from camera or any video source, Frame rates of each camera up to 10 fps, Still image and motion video capture, Motion detection technology, Real-time video record and schedule record, Video file database management includes delete, backup and storage recyclable, Adjustable motion frequency, detection area ,image quality, compression ratio, Alarm supports to send captured image to E-mail, Message, Modem to Phone, Remote access supports standard browser, like IE or Netscape, Remote access supports TCP/IP protocol (Internet and Intranet)
Frame rates:
One Card (4ports) up to 10 FPS per camera or 40 FPS total
Two Cards (8 ports) up to 10 FPS per camera, 80 FPS total
Three Cards (12 ports) up to 10 FPS per camera, 120 FPS total
Four Cards (16 ports) up to 10 FPS per camera, up to 160 FPS total
SYSTEM REQUIREMENTS:
Intel Pentium-III 800 or Faster Processor, P4 2.0 GHZ or faster recommended, One free PCI Bus per card, 32 MB RAM (More is defiantly better), 50 MB Hard Disk Drive Space Available (The more the better), CD-ROM (For driver installation), Microsoft Windows 98SE,ME,2000,XP

It's not recommended to used these cards with systems that have the video graphics adaptor built on to the motherboard unless you plan on disabling the onboard video and adding a separate video card with at least 64MB.

Click here to see some screen shots of the software

Be sure to check the Bargain Bin for slightly used discounted DVR cards of this model! (Click Here)

More information to consider when choosing the model DVR cards you get

FAQ:
Q: I have a cable modem connection at home where I will be running my video server. My problem is that my IP address changes all the time. What's the solution to my problem.
A: You can sign up for the free service that www.no-ip.com provides. There is a small program that you will install on your video server PC that will automatically update your no-ip.com account when your IP address changes. At this point you will have two options. You can either log into your NO-IP.com account to retrieve the current IP address of your video server or your can take advantage of another free service they offer which will let you set up a IP referrer. This will make it so that you don't need to log in to get the current IP. For example your would type into your browser http://www.myhomevideoserver.no-ip.com and your browser will automatically be forwarded to your current IP address. Pretty neat and best of all it's all FREE! Of course they would like you to sign up for their pay service too but it's not required. To learn more about this service this is a good place to start -- Click Here

Q: Can I save the recorded video to a format that I can burn to a CD for easy transportation of the Video?
A: Yes... While by default the video is saved in a preparatory format you do have the option to save selected video as an AVI file. You can then burn a copy of the AVI file to a CD if you have a CD ROM that's capable of burning CD's. You can then use a program like Windows Media Player to playback the video files.


If you have any questions please feel free to email us at Sales@spyshop2000.com or call us toll free at 1-888-724-1641.